The Sandman Will Keep You Awake - The Loop
Play Sound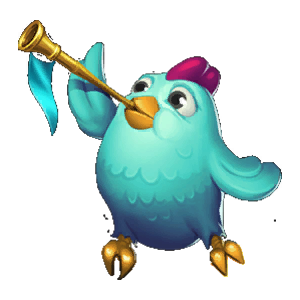 Chickens are a core gameplay feature in Realm Royale. No, really.
When a player loses all their hit points, they are turned into Chickens. Through the power of shards Downed players will automatically revive from chicken status after 20 seconds. Chickens have 700 Health and are able to double jump. Chickens can deal 75 damage with a melee peck attack and will have a special dash movement, which deals 250 damage and can be used once per Chicken life. If a player is defeated again as a chicken they will die. Each player can be defeated and turned into a chicken up to 3 times. Being defeated for the fourth time will cause the player to die instead. However, if the dead player is playing duo or squad, living teammates can forge a resurrection scroll. The cost of this depends, on how many players they are reviving, the quantity of kills of your squad and depending on the amount of alive players left in your match. Once the scroll is finished forging, all dead players will turn into chickens again, revive, and be back with all their loot and all their 3 filled up Chicken lifes.
Defeated players will drop all the weapons and items (potions and abilities) ,your items you were carrying will be given back to you whenyou revive from being chickened from your teammates resurrection. Your loot that you carrycaround their death point will stay there. Defeated chickens also drop a pile of

Shards equal to how many they were carrying, which are used in crafting at the forge.
The chicken system is based on Pip's Ultimate ability called Evil Mojo from the game Paladins.
Chicken Skins
[
]
Gallery
[
]